Maine Children's Trust Grant Information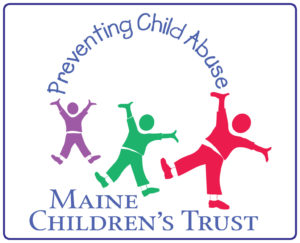 There is approximately $60,000 available for grants up to $8,000 each. One-half of the awarded amount will be automatically available to grantees the following year for the same program, if selected, subject to successful completion of a year one program as determined by the MCT grant allocations committee.
The grants are to be used to support primary prevention programs (programs and strategies which are available to all families) as well as secondary (targeted) prevention efforts, which target children and families at risk for abuse or neglect. Both of which are intended to stop abuse or neglect BEFORE abuse or neglect ever occur.
We require applicants to submit a "Letter of Intent" to determine if the proposed program offered is to stop abuse or neglect before it occurs and also that it fits with funding priorities of MCT which include: prenatal families, father engagement and support for families with challenging behaviors.
Priorities for the 2018 - 2019 funding cycle include but are not limited to:
Promote the development of parenting skills, especially in young parents and parents with very young children
Support the additional needs of families with children with disabilities
Provide early, comprehensive supports for parents
Provide programs and services for fathers
Programs that promote one or more of the 5 Protective Factors as defined by The Center for the Study of Social Policy which are:

Parental Resilience

- Managing stress and functioning well when faced with challenges, adversity and trauma

Social Connections

- Positive relationships that provide emotional, informational, instrumental and spiritual support

Knowledge of Parenting & Child Development

- Understanding child development and parenting strategies that support physical, cognitive, language, social and emotional development

Concrete Support in Times of Need

- Access to concrete support and services that address a family's needs and help minimize stress caused by challenges

Healthy Social and Emotional Development

- Family and child interactions that help children develop the ability to communicate clearly, recognize and regulate their emotions and establish and maintain relationships.
Intervention and/or treatment programs will not be funded
To qualify for a grant, your organization:
Must be a 501(c)3 organization or use a 501(c)3 fiscal agent;
Must be a Maine organization and serve Maine residents;
Must be for programs for primary(open to all families) or secondary (targeted for families with risk factors) child abuse and neglect prevention; AND
Must use the 2018 "Letter of Intent" Form to submit your initial request.
Proposals will be due by 2:00 PM on Friday, April 27, 2018 with awards made by June 30, 2018.
Through direct grants Maine Children's Trust funding supports community based prevention programs.
Download forms below.
Cover page to 2018 Trust Grant application overview
FYE 2018 - 2019 RFP Proposal with Instructions
RFP Proposal - Budget Sheet-2018