Donations
The Maine Children's Trust is a 501(c)3 organization and donations may be tax deductible. There are two ways to contribute to child abuse and neglect prevention in Maine.
Donations may be made directly to the Maine Children's Trust by sending them to: 56 Leighton Rd, Augusta ME 04330.
Our heart felt thoughts and sympathy are with the family and friends of Marissa Kennedy. Recent events have touched and inspired people across Maine. We are honored that Marissa's family chose to direct memorial gifts to the Maine Children's Trust to support child abuse and neglect prevention efforts in Maine.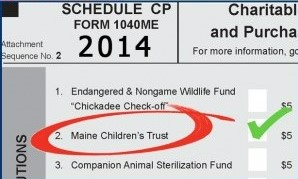 On Schedule CP of the Maine State Income Tax form, you can "check off" a donation to the Maine Children's Trust. Your tax preparer can help you do this.
By giving to the MAINE CHILDREN'S TRUST, you have the opportunity to reduce child abuse and neglect by strengthening families in communities all across Maine.
Thank you for your generosity.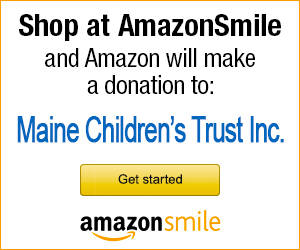 If you're an Amazon shopper, there's a new way to help Prevent Child Abuse & Neglect
Through Amazon Smile, a portion of your total will be donated to Maine Children's Trust.
Here's how it works:
Go to smile.amazon.com.
After you login with your Amazon username and password, scroll down and type in "Maine Children's Trust" when prompted. You will receive a Welcome email.
Customers of Amazon and AmazonPrime members will have access to the same products, features, services, and great low prices as on Amazon.com. The shopping experience is identical to Amazon.com with the added benefit that the AmazonSmile Foundation will donate 0.5% of the purchase price from eligible AmazonSmile purchases.
Follow us on